27 minutes from South Padre Island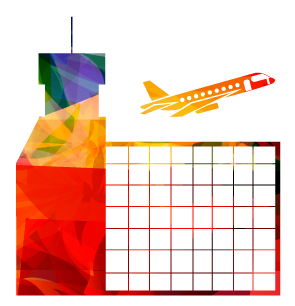 Fly the New Terminal
Welcome to the Brownsville South Padre Island International Airport, FAA designated BRO.
The new Brownsville South Padre Island International Airport terminal is one of the most advance terminal designs in America today. The terminal features a unique window system that darkens and lightens controlled by cutting-edge technology for passenger comfort. And for the health of our for passengers, virtually every surface in the terminal is treated with an antimicrobial coating and the air conditioning systems have been outfitted with ionic filtration technology, which reduces and eliminates particles, including airborne pathogens. 
Get to the Airport Early
First, check the status of your flight. Second, it is recommended that you arrive to the 2 hours before domestic flights, and 3 hours before international flights.
All airlines are located on the first floor. Once you've checked your luggage, you will proceed to the second floor where security and all gates are located. To access the second floor, please use the escalator, steps, or elevator. All carry-on bags will also be screened by TSA on the second floor.
Only ticketed passengers will be allowed on the second floor of the terminal.
When flying into BRO, follow the signs to the gate exits. Make sure you have all your belongings. You will exit through double doors on the second floor. Once you have exited the gate area, you will not be able to return without going back through security.
Bathrooms, a pet area, and a nursing station are located in the gate area.
Baggage
The baggage carousel is located on the first floor of the terminal. Baggage claim and rental cars are also on the first floor. For your convenience, there are bathrooms located near the baggage claim area.  When using the elevator from the second floor to the first floor, the door will open facing the baggage claim area.
Thank you for flying Brownsville.
Free Wi-Fi is available at BRO. Just connect your mobile device, tablet or laptop to the "Fly Brownsville Free WiFi" signal and enjoy free Internet while you wait for your flight.
Vending machines are located on the 1st floor by baggage claim, and on the 2nd floor between Gates 3 & 4.
Coming soon! A local selection of flavors and service to better serve you.
Service Dog/Pet Relief Area

The airport has an indoor pet and service animal relief station located post-security. After you pass through the security checkpoint, it's between Gate 2 and 3. The pet relief area resembles a bathroom but has a floor drain system, turfgrass, waste bags, and a sink for handlers to wash up afterward.